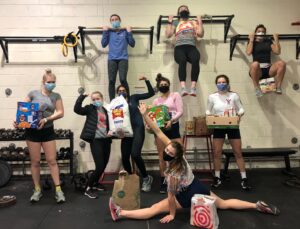 In Janury the Mercer Junior Varsity Girls laid down a challenge to the Mercer Varsity Boys and Novice teams to see who could collect the most food to support the Mercer Street Friends Food Bank and the Trenton Area Soup Kitchen. The challenge came in the form of a video which can be seen here: Click here to see the video challenge
The complete team stepped up an took on the challenge with amazing results.  A total of  3,104.1 pounds of food and essential items was collected.  The Varsity Girls contributed over a ton of this total with 2,097.8 pounds.  There were followed by the Varsity Boys with 562.5 pounds and the Novices with 443.8 pounds.
"The food drive was a great way to break out of our rowing community bubble and put our team spirit towards helping others." said Varsity Girls Captain Charvee Dua.  "When everyone was bringing in the food, we would carry the donations into the office one by one so it still seemed very small scale. It was amazing to see just how much food we were able to get with all the teams combined. Seeing every single donation add up to a sum of a little over 3000 pounds of food really embodied how much teamwork matters for this team, and it feels really good to unify and do something incredible for our community when we can't currently do that "something incredible" out on the race course."
Congratulations to everyone who contributed! A special thank you to the girls' team for their work in organizing and challenging everyone.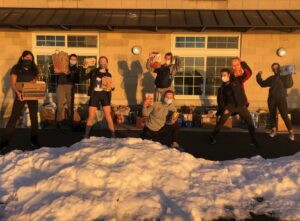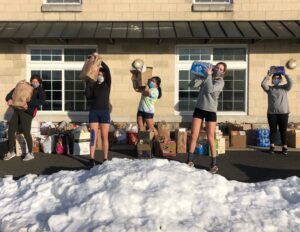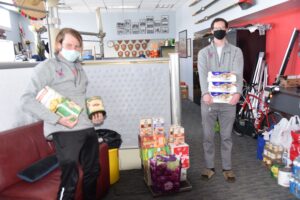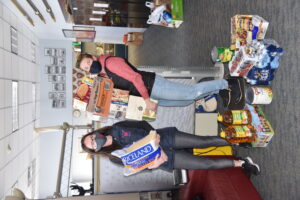 About Princeton National Rowing Association
The Princeton National Rowing Association (PNRA), a 501(c)3 organization, operates the Finn M.W. Caspersen Rowing Center located on the shores of Mercer Lake, Mercer County Park in West Windsor, N.J. PNRA is dedicated to providing a venue where athletes of all ages, talents and backgrounds have the opportunity to develop their rowing abilities to their highest potential.  As a United States Olympic Training Site, PNRA is home to the USRowing National Team, as well as scholastic and community rowing programs. PNRA runs the Mercer Junior and Masters Rowing Programs and conducts outreach activities seeking to expand the involvement in rowing in the greater Mercer County, N.J., region.