Finn M. W. Caspersen Rowing Center (Directions)
Boathouse History
The original boathouse project started in the mid 1990s in an effort to provide a better venue for the Peddie School and Lawrenceville School rowing programs. Finn M.W. Caspersen, Chairman of the Board of the Peddie School and father of four former Ivy League rowers, led the effort to build a boathouse on the north shore of Mercer Lake in West Windsor, NJ.
Even before the original Mercer Lake Boathouse was dedicated in the fall of 1998, it was apparent that the location and size of Mercer Lake and the environment surrounding the venue made it perfectly suited for world class competitions and training. Soon after the boathouse was dedicated, the US Men's National Team was training there alongside Peddie and Lawrenceville and giving the site rave reviews.
In 2000, Princeton International Regatta Association was established as the organization that would promote and facilitate the international competitions and community rowing programs for which Mercer Lake was so well suited. The 2001 and 2002 international events were very successful and MJRC grew rapidly. As more rowers came to the boathouse everyday and used the venue for longer periods of time, PNRA was unable to fulfill its mission to provide a world class training environment for the National Team and its community rowers.
The plans for the current boathouse were laid out in the early part of 2002. Ground for the Mercer Lake Boathouse Expansion Project was broken in November 2002. In doubling the size of the boathouse, PNRA has accomplished its goals of accommodating the additional youths involved with MJRC and embracing the US National Team by providing world class facilities.
Mercer Lake Racecourse
The Mercer Lake Race Course was the site of the 1988, 1992, 2004 and 2008 United States Olympic Team Trials.
The racecourse on Mercer Lake is FISA certified and fully equipped to host world-class regattas. FISA is the international governing body of rowing and reserves this designation for only the world's best rowing venues. Gaining such a designation guarantees that the Mercer Lake venue has been planned and constructed under the strictest standards and that events held there will be fair to all competitors.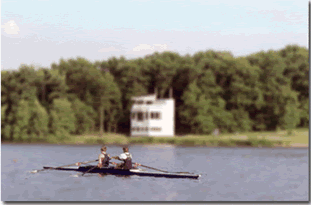 The racecourse venue includes:
Seven-lane buoyed racecourse with sufficient warm up areas
Three-story finish line tower
Ample boat storage and trailer parking areas
Seven-lane starting platform
300m of finish line spectator areas
Consistent conditions across all seven lanes
State-of-the-art start, timing and judging facilities
The Princeton National Rowing Association strives to be one of the world's premier regatta hosting associations and the Mercer Lake racecourse infrastructure was developed with this in mind. As both a training site and a world-class racing facility, the Caspersen Center can meet the demands of the biggest and most prestigious regattas in the world.