The Mercer U23 Summer Elite Rowing Program is a competitive summer team for selected collegiate athletes looking to continue their physical and technical development outside of the college racing season.  The primary focus of the team will be competing successfully at the USRowing Club Nationals Regatta in July.  The program will be oriented towards sweep rowing, using primarily pairs and straight fours.
This program is run by the Princeton National Rowing Association at the Caspersen Rowing Center, a United States Olympic Training Site.  This program is not affiliated with USRowing or the US National Teams.
2018 Program Dates:
Men's Program – June 9th– July 29th 
Women's Program  – June 9th– July 29th
Practice Schedule:
Monday-Friday – 5:30-7: 30 pm
Saturday and Sunday Times: TBA
Race Schedule:
Independence Day Regatta – June 29th-July 1st
U23 Trials (selected crews at coaches discretion)– July 5th-8th
Club Nationals – July 13th-July 15th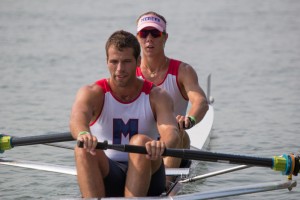 Application Process:
The program will be limited to 12 male and 12 female athletes.  Interested athletes should apply via our U23 Application Form by April 25th.  Coaches will notify accepted athletes by April 29th.
Athletes who do not meet the erg standards are still welcome to apply.  While erg scores will play a major component in selection decisions, coaches will also take into account collegiate racing experience and the athletes potential to develop through participating in the program.
Prospective Athlete Time Standards:
Men's U23 – 2k Sub 6:15
Men's U23 Lightweight – 6:35
Women's U23 – 2k Sub 7:15
Women's U23 Lightweight – 7:35
Coaches:
Men's & Women's Head Coach: Skip Kielt – Hobart College – nkielt@gmail.com
Program Fee: The program cost for the summer is $500.  This fee will include coaching, access to boathouse and equipment, and hat.  Athletes will pay race entry fees on a per race basis.
Housing/Employment:  Please indicate on your application if you need to arrange housing, or employment for the summer.  We have some summer coaching opportunities with our junior program, and novice summer camps, and we will work with the Mercer community to help athletes who seek employment beyond what we can offer.