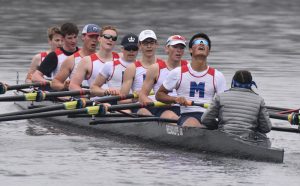 Required Forms and Registration Link 
Program Overview:
The Mercer Rowing Varsity Program is our year-round, high-performance racing team for high school-aged athletes. The team focus is on training in preparation for competition at the Youth National Championships, which is held in early June.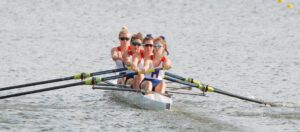 Due to the success of the Mercer Rowing programs and growing popularity in the sport of rowing, interest in the Mercer Junior Rowing Program has grown steadily in recent years. The Varsity Program is open to athletes with at least two seasons (e.g. fall and spring) of novice rowing or by approval of the head coach. There are typically no cuts made, however there might be Tryouts to make Varsity if the number of athletes warrants this and there may be a JV team to further develop athletes after their novice year. While race results and national success is a primary goal of the program, just as important is individual athlete development and growth. Every person has a different journey in their athletic development and the coaches strive to maximize each athlete's potential.
There are 4 programs offered throughout the year (click the hyperlink for more specifics on each program):
FALL 2023 INFORMATION
Dates: Early September through mid-November
Registration Active: July 15-August 31
Winter – indoor conditioning/fitness
Dates: Week after Thanksgiving through early March
Registration Active: October 15-November 30
Spring– main competitive season for rowing
Dates: mid-March through mid-May (or early June if invited to Nationals)
Registration Active: February 15-March 30
Summer – available for rowers/coxswains with at least one season of rowing
Dates: late June through early/mid-August
Registration Active: May 1-June 30
Transportation
MJRC does not provide transportation to/from the boathouse for practice. There is a Facebook page for parents (Parents of MJRC) where parents can coordinate carpools. This is a closed group only for parents and you must be a current Mercer Parent to be accepted.
Programming Prerequisite:
All required documents including the medical form, online waiver and photo release, family commitment form, code of conduct, team rules and travel guidelines must be handed into the office. Registration fees must be paid by the start of the season. A late fee of $15 will be assessed if payment is not made within 2 weeks of the start of the season.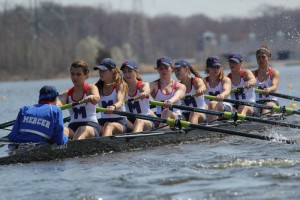 Sign Up/Registration:
Registration Link
We use a third party website called RegattaCentral for all of our registrations. If you are having issues with your account please contact RegattaCentral customer support at (614) 360-2922.
Please make sure your account information is up to date, including a current email and emergency contact number. We only utilize this information in the event we need to contact you, and if there's an emergency we need it to be correct.
$40 of the registration fee is a non-refundable processing fee.
Regatta Registration
Regatta fees (aka Trip Fees) are paid in addition to standard programming fees. To register for a PNRA event or regatta please find the registration link in left side menu bar of this page.  The link to RegattaCentral will be posted under trip fees. Links will be posted 1-2 weeks before the event and should be paid by the day of the event. Again, a $15 late fee will be assessed if payment is not made within 2 weeks of the event.
Attendance Policy


As the program grows and we have more athletes rowing on every team it is more important that our coaches are prepared to run practice. To facilitate this, we are asking that all athletes give at least 24 hours notice of a missed practice. We are also asking all of our coaches to come prepared with the boatings for the day already assembled. If an athlete is boated and missed practice without notifying the coach, the athlete's boat will not go out on the water that day.
We use TeamSnap for athletes to mark availability and communicate any changes to practice. Athletes will be given access to TeamSnap after registering.
Rowing is a team sport. For optimal team performance, a crew needs to practice together to prepare for competition.  Therefore, being absent from practice is a factor in determining race line-ups.
Regattas are mandatory. If you miss a practice you may not be boated for the next regatta.
SAT & ACT Test Dates
The test dates for the SAT & ACT may conflict with Mercer regattas and practices. Please be sure to communicate with your coach if you are planning to take one of these tests.
College Visits
Communicate with your coach before you schedule college visits (unofficial or official) to be sure you are not missing a crucial day(s) of practice.