Program Registration
To Register for any of the Mercer Masters Programs, please visit the Masters Registration page.
No athlete may begin practicing with the team until he or she has registered online and has handed in a completed waiver form, health history questionnaire, and swim test waiver.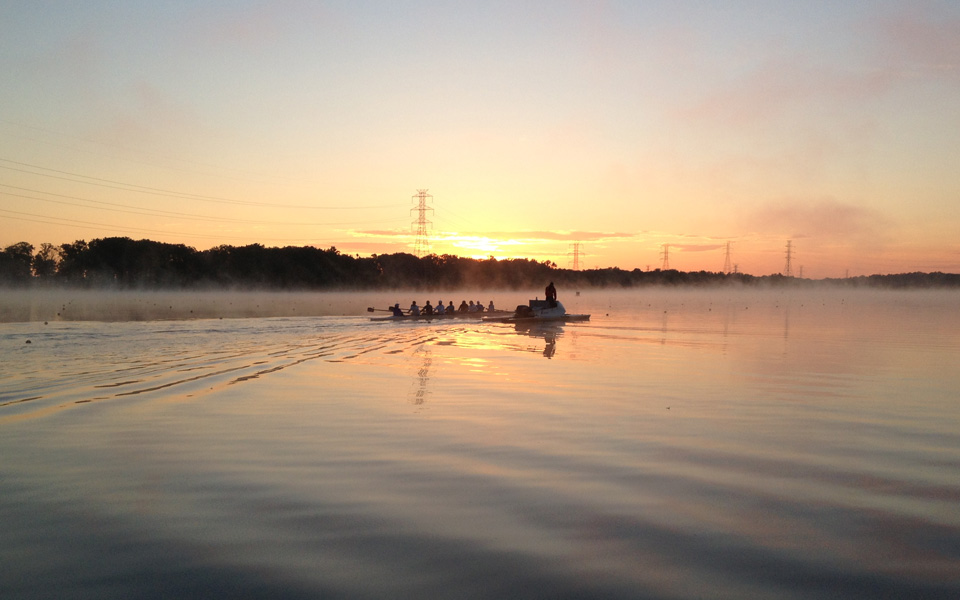 Program Descriptions
Pre Winter Training
November 27- December 19, 2017
Pre-requisites: Have to be part of the Mercer Masters to paticiapte
Winter Training (Winter Session)
January 2nd – March 2nd, 2018
Monday – Friday 5:30- 7:00 am
Pre-requisites: None.
The winter is an invaluable time for rowers to fine tune general skills and focus on developing a strong physical foundation for future competition or simply enjoy the benefits of general aerobic fitness. For novice athletes in particular, it affords them with the opportunity to further develop the mechanics and dynamics of their stroke in a stable, flexible training environment.
The winter session provides the experienced athlete the opportunity focus upon specific, individual technical development. Each athlete's training will be characterized by a strong emphasis on individual skill, long-term physical development, and for Competitive Program participants, preparation for the summer and fall Masters racing seasons.
Winter Erg Racing Schedule
  February 4- Mainline Slide — Ardmore, PA
  TBA- Center City Slam- Philadelphia, PA
  February 17-18, 2018 – World Indoor Rowing Championship – Alexandria, VA
  February 25- Crash B's — Boston, MA
  March 11- Row for the Cure – Peddie School
Participation in Winter Training is strongly recommended for the Competitive Program
The Mercer Masters practice out of the Caspersen Training Center on Mercer Lake. Practices are generally held in the early morning. All participants, regardless of skill level, must share coxing duties; therefore coxswain training is integrated into all of our programming.
 Mercer Masters Competitive (Spring, Summer, and Fall Sessions)
Spring – March 12th – June 8th, 2018
Summer – June 12th- August 5th, 2018
Fall – August 27th – November 16th, 2018
Monday- Friday 5:30- 7:00 am ; Saturday – TBD
Pre-requisites: Completion of Learn to Row, Recreational/Intermediate Rowing, or equivalent AND acceptance into the program based upon Coach's discretion.
The Competitive Program comprises athletes with a desire to race competitively and who are committed to the training necessary to compete at a high level. Training for these individuals focuses on increasing the technical skills and developing the physical strength, fitness, and stamina necessary to perform well in the competitive arena.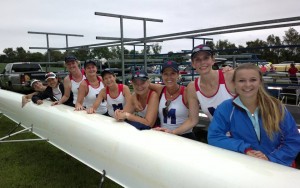 Attendance and fitness are fundamental aspects of the Competitive program. As such, there is a minimum attendance policy where athletes are expected to an [80%] or higher attendance rate for the current season.
Selection for the Competitive program will be based on a combination of technical ability, fitness( i.e. erg score), potential( i.e. power to weight ration), coachability (ability to listen and make changes), sportsmanship, positive attitude and being a "team player". Participants must be willing to commit to erg tests, additional workouts, land training and weekend training time as required.
Recreational / Intermediate Rowing (Spring, Summer and Fall Sessions)
Spring – March 12th – June 8th, 2018
Summer – June 11th- August 3rd, 2018
Fall – August 27th – November 16th, 2018
M/W/F – 5:30- 7:00 am
Pre-requisites: Successful completion of Learn to Row or equivalent.
The Recreational / Intermediate program is designed to build on the basic skills acquired from the Learn to Row program as well as continuing to improve rowing skills and fitness for Intermediate Level rowers. This program is also geared for those participants who may aspire to row competitively but need to continue to improve their technical skill and/or fitness level.
The Recreational / Intermediate program is designed to encompass both beginners who have completed the Learn to Row program, individuals who would like to get a good workout in but do not aspire to row competitively as well as those who would like to ultimately move on to competitive rowing.
Learn To Row (Summer) :
The 2018 National Learn to Row Day will be June 9th, 2018
June 18th- August 3rd, 2018
M/W/F – 5:30-7:00 am
Pre-requisites: None – NO EXPERIENCE NECESSARY
The Learn to Row Program is offered limited times each calendar year and is designed for individuals with little or no rowing experience (or have been absent from the sport for an extended period).
Participants will attain a thorough introduction to rowing. The focus of the program will be to develop a basic understanding of the physical and technical foundation required to confidently and successfully become proficient in the sport.
The Learn to Row/ Recreational / Intermediate Summer Program will begin in June 18th, 2018 and will be an early morning (5:30 – 7:00 am) program offered M/W/F. Please register for Summer Sweep Learn to Row on registration page (link at top of this page). Check the Masters Blog for further details.
Summer 2018 Tentative Race Schedule
Schulykill Navy
Philadelphia, PA
June 16th, 2018
Independence Day Regatta
Philadelphia, PA
June 29th– July 1st, 2018
Carnegie Lake Regatta
Princeton, NJ
July 18th, 2018
Diamond States Regatta
Middletown, DE
July 21st-22nd, 2018
Fall 2018 Tentative Race Schedule
Head of the Housatonic
Shelton, CT
Head of the Charles Regatta
Boston, MA
Head of the Schuylkill
Philadelphia, PA
Head of the Fish
Saratoga, NY
For More Information…
For more information on any of the Mercer Masters Rowing programs please call 609-799-7100.