The 2023 Adult Summer Rowing League is an opportunity for companies/organizations to offer a fun, team-based outdoor activity for their employees. A team of at least 8 people will come to row one evening each week over an 8 week period. You'll learn the basics of rowing, enjoy the scenery of Lake Mercer in the Mercer County Park (eagle sightings are a regular occurrence!) and have a lot of fun. There is no prior rowing experience required and each team will be assigned an experienced "coxswain" and coach. All sessions will take place at the Caspersen Rowing Center on Lake Mercer in West Windsor on your choice of Tuesday, Wednesday or Thursday.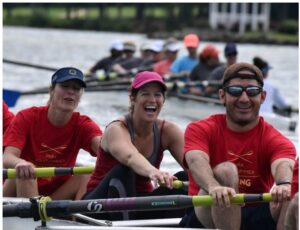 Participants must be over the age of 18.
General Program Details:
Program will be run over a 8 week period, starting the week of June 19 and ending in the week of August 7
There will be an experienced coxswain provided for each team/boat
Each team will have a coach and an experienced coxswain for the duration of the program
Sessions are offered on Tuesday, Wednesday and Thursday evenings from 5:45 to 7:15 p.m. (choose one night)
Cost of the program is $2000/team
Or send a check made out to PNRA to:
Hilary Gehman
PNRA
1 South Post Rd
Princeton Junction, NJ 08550
Have a question that is not answered above? Contact Events Manager Hilary Gehman at hgehman@rowpnra.org or 609-527-9108.