Princeton National Rowing Association will offer several exciting Learn to Row opportunities for adults for the late spring/summer of 2022.
Row in the Barge on Mercer Lake
This is a low-key, fun way to get out on the water and enjoy beautiful Mercer Lake in West Windsor. The Barge will enable participants to take rowing strokes at their own pace on a stable platform. An experienced coach will be on the boat at all times. This program is great for active seniors, as well as being an introduction to rowing for anyone who would like to progress to the Learn to Row Program (see below).  Class size is limited to 8 people and if there is enough interest, we will consider adding another session. There are two 6 week programs that will meet twice a week on Tuesday and Thursday from 9:30 to 10:30 am. The first 6 week program will begin Tuesday, May 24 and end Thursday, June 30. The second 6 week program will begin Tuesday, July 12 and end on Thursday, August 18. Cost of each 6 week program is $180. For anyone curious but not sure if this is right for you, you may join a FREE session on Tuesday, May 17 or Thursday, May 19. Sign up HERE for one of these free sessions. *Please note, this program will stay in the barge for all sessions. If you are interested in progressing to a rowing shell, please see the Learn to Row program offerings below.
Register HERE for one or both of the Row in the Barge Programs.
Adult Learn to Row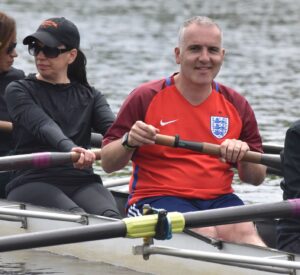 We will offer two consecutive Learn to Row Programs, each 4 weeks long that will meet 3 days a week in the early evening (5:45-7:15pm). The goal of the Learn to Row program is to teach the basics of the rowing stroke from land to the water. Participants will start out on land using the "ergometer" (stationary rowing machine) and then move to the barge before getting into a racing boat. The size of the boat will depend on the number of participants. We have singles, doubles, 4 person and 8 person boats. A great introduction to this Program will be the National Learn to Row event held on Saturday, June 18. All sessions will take place at the Caspersen Rowing Center located at 1 South Post Rd in West Windsor.
Register HERE for one or both of the Learn to Row programs
Adult Summer Rowing League
Click HERE to learn more about this summer rowing opportunity that focuses on rowing in 8 person boats.
Private Lessons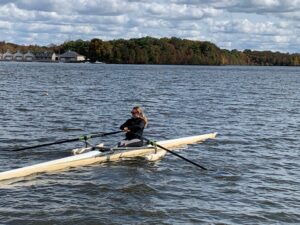 Additionally, PNRA offers private lessons for adult sculling (subject to coach availability). Please fill out the Health History Form and Waiver below and contact Hilary Gehman (hgehman@rowpnra.org) to set up a lesson.
Masters Health Form and Waiver
Cost for lessons:
Single: $75/hour (one person)
Double: $60 per person/hour (two people in the boat)
Quad: $40 per person/hour (four people in the boat)