For Immediate Release
April 21, 2016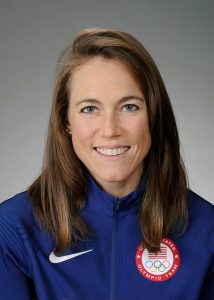 West Windsor, NJ – The Princeton National Rowing Association ("PNRA") is pleased to welcome Katelin Guregian to our team as the Manager of Community Development.    In this position, Ms. Guregian will work to develop a philanthropic base for PNRA, especially to support the expansion of the Caspersen Rowing Center.  Slated to break ground in March 2018, the expansion will more than double the size of the facility ensuring PNRA's continued role as a premiere rowing center in country.
"I'm thrilled to be joining PNRA in the Boathouse Expansion campaign," stated Ms. Guregian. "The Caspersen Rowing Center is a central part of my life, in regards to my Olympic training as well as my role coaching the Junior Girls. I'm passionate about all of the rowing opportunities at PNRA for masters, juniors, and elite athletes, and am so excited to be part of the future of Mercer."
As the coxswain of the Winter Park High School Men's 8+, Ms. Guregian won the 2005 Scholastic Rowing Association National Championship on Mercer Lake.  While at the University of Washington, Katelin steered their men's team to multiple Intercollegiate Rowing Association (IRA) National Championships.  Since 2009, she has been a member of USRowing's Princeton Training Center.  Katelin has coxed the USA women's 8+ to two Under-23 World Championships, four Senior World Championship Gold medals and an Olympic Gold Medal at the 2016 Rio Olympic Games.  She has also served coach for PNRA's Mercer Junior Rowing Program.
"We are pleased to welcome Katelin to our organization," said Kristopher Grudt, Executive Director of PNRA.  "She brings a wealth of knowledge about our sport and a drive which will make her successful directing our development activities.  I look forward to her contributions to not only PNRA but our community."
The Princeton National Rowing Association, a 501c3 organization, operates the Finn M.W. Caspersen Rowing Center located on the shores of Mercer Lake in West Windsor, New Jersey.  The Princeton National Rowing Association is dedicated operating a world-class training site for our nation's elite athletes, providing opportunities for area youth to excel in the sport of rowing and to expand rowing in the greater Mercer County area through community based programs.  The Mercer Junior Rowing Program which provides rowing opportunities for the youth from over 25 Mercer County area high schools. The center is a home to the USRowing National and Olympic Teams, as well as rowing clubs and schools, including the Hun School, Lawrenceville School and Peddie School. www.rowPNRA.org
For more information contact Kristopher Grudt, 609-799-7100 x100, krisgrudt@rowpnra.org