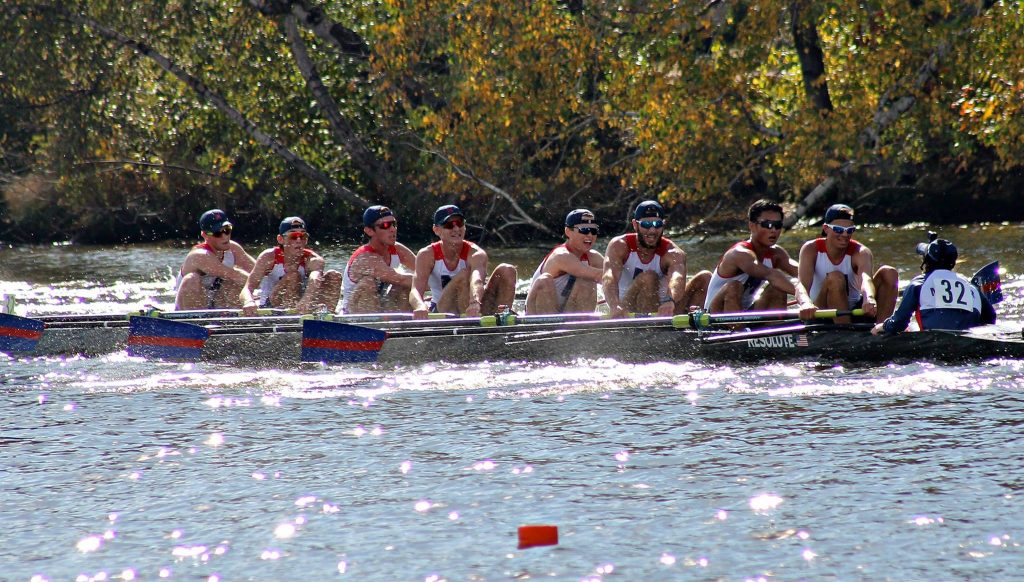 October 27, 2017, West Windsor, NJ – For immediate release
Thousands of rowers from around the globe descended upon Boston last weekend to compete at the elite Head of the Charles Regatta.  The weather was picture perfect on the Charles River, and the Mercer rowers used that to their advantage as they took to the water in the hopes of improving their times from last year and securing automatic invitations to return next year.  They did not disappoint.
Mercer's first varsity women's boat competed in the Women's Youth Eights.  Rowers Katryna Niva, Sarah Closser, Elyssa Aronson, Bridget Parker, Emmanuelle Adamson, Kieran Wild, Mia Barkenbush, Sara Hansen and coxswain Lauren Preston finished the course in 16:40.878, earning them a 5th place medal in the field of 85 boats.  While their finish was certainly impressive, co-captain Adamson was quick to note that there is still work to be done.
"Head of the Charles is an amazing experience and so much fun," she said.  "It's pretty great to have the entire team do so well.  Our 2V has been doing insanely well and proving the depth we have.  It's great to have success early in the season, but we have a long time to continue to improve before nationals."
The 2V Adamson speaks so highly of is Mercer's second varsity women's boat, coxed by Madeleine Peel and rowed by Sophie Craver, Julia Berdzik, Peri Mishkin, Morgan Linsley, Jacqueline Armetta, Erin Dobbs, Chloe Couillens, and Eveline Enthoven. They finished closely behind the women's 1V with a time of 17:04.439, earning them a 13th place finish and highest positon by a 2V boat in the event.
"I am very pleased with the results from the weekend," varsity women's coach Matt Carlsen said.  "Going into the head of the Charles, my goal for the varsity 8 and second varsity 8 was to get into the top 5 and top 15 respectively. They both accomplished those goals, but if we want to reach the end goal of medaling at the national championships in June we have to find even more speed on and off the water. I am hoping by the successes of this past weekend, it will light a fire under the girls that did not get a chance to compete and keep the fire lit for those that did!"
Mercer had one varsity men's team competing in the Men's Youth Eights at HOCR this year.  Annie Huber coxed rowers Dana Gajewski, Andrew Moss, Evan Kinter, Jack Gallagher, Eli Kalfaian, Herbert De Cokere, Brady Stergion, and Leon Deng to a 19th place finish with a time of 15:09.921.  Their placement guarantees that Mercer will send at least one varsity men's boat back to the Charles River next year, in addition to the top two women's varsity boats.
The Mercer Masters were also in attendance in Boston this year, sending one boat each to compete in the Men's and Women's Senior Master Fours.  Rowers Miles Truesdell, Charles Gilbert, Michael Vaccaro, David Potts and coxswain Helena Wolk finished in 29th place with a time of 19:44.742, while the women's boat, coxed by Madeline Alden and rowed by Kristin Appelget, Sharon Waters, Meredith Lavery, and Terri Gruber McDonough finished in 25th place with  time of 20:48.833.
"It has been a great start to the 2017-18 season with the whole team, women, men and masters, having strong performances at our races so far this fall," stated Justin Ochal, Mercer Rowing Program Director. "Our athletes have shown that we can race aggressively against some of the best teams in the country.  We are looking forward to continuing to build on this for the rest of the fall and throughout the spring season."
Congratulations to all the Mercer rowers who competed in the Head of the Charles Regatta this year.
About the Princeton National Rowing Association 
The Princeton National Rowing Association, a 501(c)3 organization, operates the Finn M.W. Caspersen Rowing Center located on the shores of Mercer Lake, Mercer County Park in West Windsor, New Jersey.  The Princeton National Rowing Association is dedicated to operating a world-class training site for our nation's elite athletes, providing opportunities for area youth to excel in the sport of rowing and to expand rowing in the area through community-based programs.  PNRA runs the Mercer Junior Rowing Program which provides rowing opportunities for youth from over 30 area schools and the Mercer Masters Rowing Program which provides rowing opportunities for adults.  The center is a home to the USRowing National and Olympic Teams, as well as rowing clubs and schools.
For more information, contact Kristopher Grudt, tel: 609-977-1094, krisgrudt@rowpnra.org or visit www.rowpnra.org.