Wednesday, September 26, 2018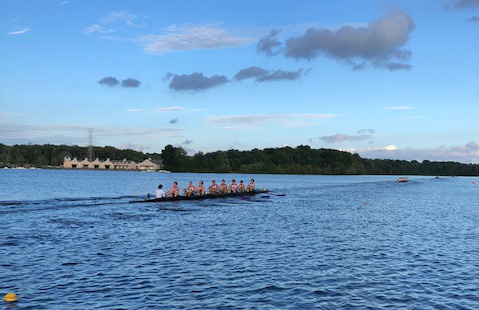 The Caspersen Rowing Center came alive on Wednesday afternoon with some friendly, intra-boathouse competition among the different high school crews that train here. The Lawrenceville School, Hun School, Peddie School and Mercer Junior Rowing all took part in two co-ed events, each a 4.6K 'round the lake' timed race in two boat classes. The first group to go off was the 4+ (coxed 4s), 4X (quads), and  event. Next the teams seated 8s for the same trip. 
The weather cooperated and the Mercer Lake Challenge gave the crews a chance to test their speed as the Fall Head racing season gets underway.
Next up on Mercer Lake will be the Small Boat Challenge on October 6th & 7th , 2018.  The Mercer Juniors and Mercer Masters will compete at the Head of the Housatonic in Derby CT on October 6,, 2018.
2018 Mercer Lake Challenge Results
            Men's 8+ – 4:30pm                                         
Place    Bow                               Team                          Final Time
1           1                                     Mercer "A"                     16:11.3
2           3                                     Lawrenceville "A"                   16:48.1
3           4                                     Hun                                 16:58.3
4           5                                     Mecer "B"                       17:03.1
5           2                                     Peddie "A"                      17:07.6
6           7                                     Lawrenceville "B"                   17:46.1
7           6                                     Peddie "B"                      18:39.0
8           9                                     Peddie "C"                      19:17.1
9           8                                     Mercer "C"                     20:19.0            
            Women's 8+ – 4:35pm        
Place    Bow                               Team                          Final Time
1           12                                   Mercer "A"        4+             18:05.4
2           14                                   Mercer "B"        4+             18:35.0
3           15                                   Mercer "C"        4+             19:26.9
4           16                                   Mercer "D"        4+             19:42.1
5           13                                   Lawrenceville    4+             20:26.1
1           17                                   Peddie "A"         4x             19:21.0
2           18                                   Hun                    4x             19:46.3
3           19                                   Peddie "B"         4x             20:09.2
4           20                                   Peddie "C"         4x             24:34.9
3           23                                   Hun "C"              2x             23:35.0
1           21                                   Hun "A"              2x             23:59.0
2           22                                   Hun "B"              2x             26:58.6
             24                                   Hun "D"             2x    DNS
             Men's 8+ – 5:10pm                                         
Place    Bow                               Team                          Final Time
1           27                                   Mercer "A"                     15:22.5
2           29                                   Lawrenceville "A"                   16:03.4
3           31                                   Mercer "B"                     16:28.0
4           30                                   Hun                                 16:44.5
5           28                                   Peddie "A"                      17:05.2
6           33                                   Mercer "C"                     17:31.9
7           32                                   Peddie "B"                      19:03.0
8           34                                   Mercer "D"                     20:12.5
             Women's 8+ -5:20pm                                    
Place    Bow                               Team                          Final Time
1           35                                   Mercer "A"                     16:41.6
2           37                                   Mercer "B"                     17:11.2
3           38                                   Mercer "C"                     18:24.0
4           39                                   Mercer "D"                     19:27.4
5           36                                   Peddie                             20:17.2