Mercer Novice Parents/Athletes,
It has been another great week at the boathouse! Unfortunately for safety reasons, we were only able to get on the water this week due to extremely windy conditions, hopefully next week we will be more lucky with the weather. Below are just a few reminders as we continue to progress through the season!
Next week the forecast calls for chilly weather, please make sure athletes dress in layers.
Mercer Lake Sprints is fast approaching and each novice team is scheduled to have 3 boats racing! As we have only been out on the water once, it is still hard to tell who will be racing April 16th.
We are still looking for volunteers for the Mercer Lake Sprints regatta and you can sign up 
here
! As novice racing takes place approximately between 8 – 12 on Saturday morning I highly encourage all parents and athletes to sign up for Saturday afternoon or anytime on Sunday!
I would also like to thank everyone for being so helpful with turning in missing forms. I apologize for any inconvenience it has been to bring in health forms etc. I have searched high and low for many of the forms and I still am unable to locate a number of them. With that being said, below is the updated list of forms I am still missing.
Many athletes have been great at communicating with both Coach Zach and I about absences and filling out the absence form. We ask that as absences come up in that future that 
all
 athletes continue to fill out the online form available 
here.
 I would also like to remind all of you that we do take absences into account for boating. I know many families plan spring breaks months in advance but moving forward we hope the amount of absences will decrease significantly as it is hard to put line ups together when there are so many absences. Rowing is a commitment and we ask that all parents and athletes understand that.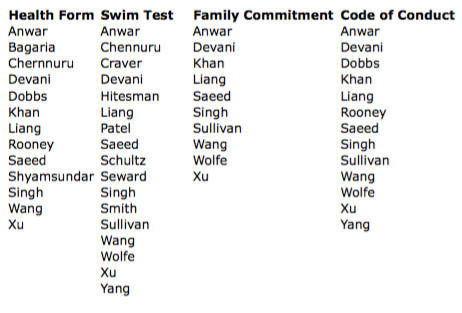 Please do not hesitate to reach out if you have any questions!
 – Coach Maddie
malden@rowpnra.org
609-799-7100 x 103