Mercer Novice Girls Parents/Athletes,
AMAZING JOB TO ALL BOATS TODAY! Due to weather conditions there will be no semis tomorrow and the Women's Novice 8+ event will go to a final tomorrow morning.
We had two boats qualify for the final and the information is below. It will be chilly so please have athletes dress in layers!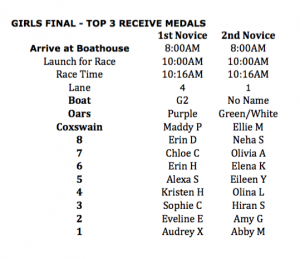 Please let me know if you have any questions
GO MERCER!
Coach Maddie
609-306-5453