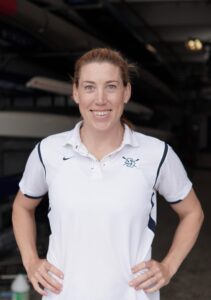 Sarah Trowbridge, a 6 time national team member and 2012 Olympian, will be the next Mercer Junior Women's Varsity Head Coach. Trowbridge will replace Matt Carlsen who accepted an Assistant Coach position with the Duke University women's rowing team.
"I'm very excited to join the Mercer Juniors' coaching staff and to contribute to such a long standing successful program," said Trowbridge. "The combination of an excited and passionate group of athletes, an engaged community of families, and the supportive staff, make me thrilled to work with this team!"
Trowbridge has an extensive coaching career spanning the last 15 years which includes collegiate positions with Georgetown University (Lightweight Women's Assistant Coach), Yale University (Women's Assistant Coach) and most recently the Head Women's Coach at the University of San Diego. Trowbridge was the Elite Program Head Coach at Vesper Boat Club in Philadelphia as well the coach of the US Women's Lightweight Double (bronze medal, 2019 World Championships) and US Women's Double (6th place at the 2016 Rio Olympics, bronze and silver medals respectively at the 2018 and 2019 World Championships). As a member of 6 senior national teams, Trowbridge has won medals in both sculling and sweep at World Championship events.
Mercer Rowing Program Director, Hilary Gehman stated: "I am so pleased to welcome Sarah to the Mercer coaching staff. She is one of the most well respected coaches in the country and we are extremely lucky to have her join the Mercer community. Her competitive success as an athlete and coach are impressive credentials, but her passion for the sport and for developing each athlete to their potential is what makes Sarah truly stand out. She will be a tremendous asset to the Mercer Junior program."
Trowbridge graduated from the University of Michigan and currently resides in Rocky Hill with her husband, Bryan Volpenhein and their two children.