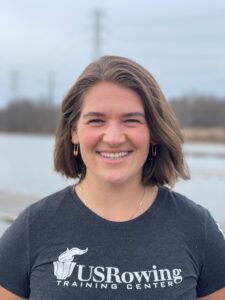 PNRA/Mercer announced that Brooke Wolford has accepted the position of Mercer Varsity Girls Head Coach. Brooke has resided in the Princeton area for the past several years while training at the Caspersen Rowing Center with the US National Team and was a member of Team USA at the 2022 World Rowing Coastal Championships in Saundersfoot, Great Britain
Brooke started her athletic career at the age of 5 as a swimmer and water polo player. She continued with both sports into college where she swam and played water polo at Santa Rosa Junior College in California. Brooke did not begin rowing until her 4th year of college at Sonoma State University where she quickly excelled and was later offered a scholarship to row at the University of Central Oklahoma. At UCO, she helped the team earn a first ever team bid to the 2015 NCAA Championships and a 2nd place overall in 2016 at NCAAs.
Brooke graduated from UCO with a degree in Psychology and moved to Philadelphia to row with Vesper Boat Club where she competed for 3 years as a member of their High Performance team. Brooke was invited to the 2019 quad camp held at the Caspersen Rowing Center and began training full time at the national training center. Last year, Brooke was an Assistant Coach with the Mercer Varsity Boys team, and most recently, she competed at the 2022 World Rowing Coastal Endurance Championships in Saundersfoot, Great Britain.
Mercer Rowing Program Director, Hilary Gehman stated: "I am thrilled to welcome Brooke to the Mercer coaching staff. She is a tremendous role model for the Mercer girls and I am excited to see the impact she will have on the team this spring season. I'd also like to recognize the huge contributions of Sam Altier as he led the program all fall as Interim Head Coach. We have a great team of coaches at Mercer!"
Brooke will begin full time with the Varsity Girls in early January. Sam Altier will assist with the coaching transition and remain on the girls coaching staff throughout the winter and spring.