Mercer Varsity Girls Parents/Athletes,
Tomorrow is the Philly Youth Regatta! Here are the logistics for tomorrow's event. Sorry for the delay in information!
REGISTRATION: Here is the registration fee for the regatta, please make sure to register!
LOCATION: The regatta will be held in Philadelphia on the famous Schuylkill River! For information on directions please click here. The address to use for GPS is: 2200 Kelly Drive, Philadelphia PA, 19129 (Address is the St. Joe's (Gillin) Boathouse).
DROP OFF: All athletes should arrive 2 hours before their scheduled race time. Please drop your athlete off at the Mercer boat trailer, which will be parked in the lot adjacent to the St. Joseph University (Gillin) boathouse. Once an athlete arrives at the trailer on race day we require their undivided attention and focus. Parent presence around the trailer causes distraction for both coaches and athletes. After your athlete's race is over and they have been dismissed by their coach they are allowed to be picked up.
PARKING: Be aware that parking is extremely limited and that the section of Kelly Drive along the racecourse (from above the boathouse to beyond the grandstand) will be closed to traffic during the regatta. IN ORDER TO PARK AT THE COURSE, YOU MUST PRINT THIS PARKING PASS AND DISPLAY IT IN YOUR WINDSHIELD.
UNIFORM: All athletes are asked to arrive wearing the Mercer unisuit and Mercer hat.
WEATHER: Saturday is scheduled to be very hot. Please make sure athletes come prepared with sunscreen, water, hat, and sunglasses.
SCHEDULE: Below is the schedule for the Mercer boats. Here is the entire schedule for this weekend's racing. As the schedule might change please keep checking back.
LINE UPS: Here again are the line ups for tomorrow and race times!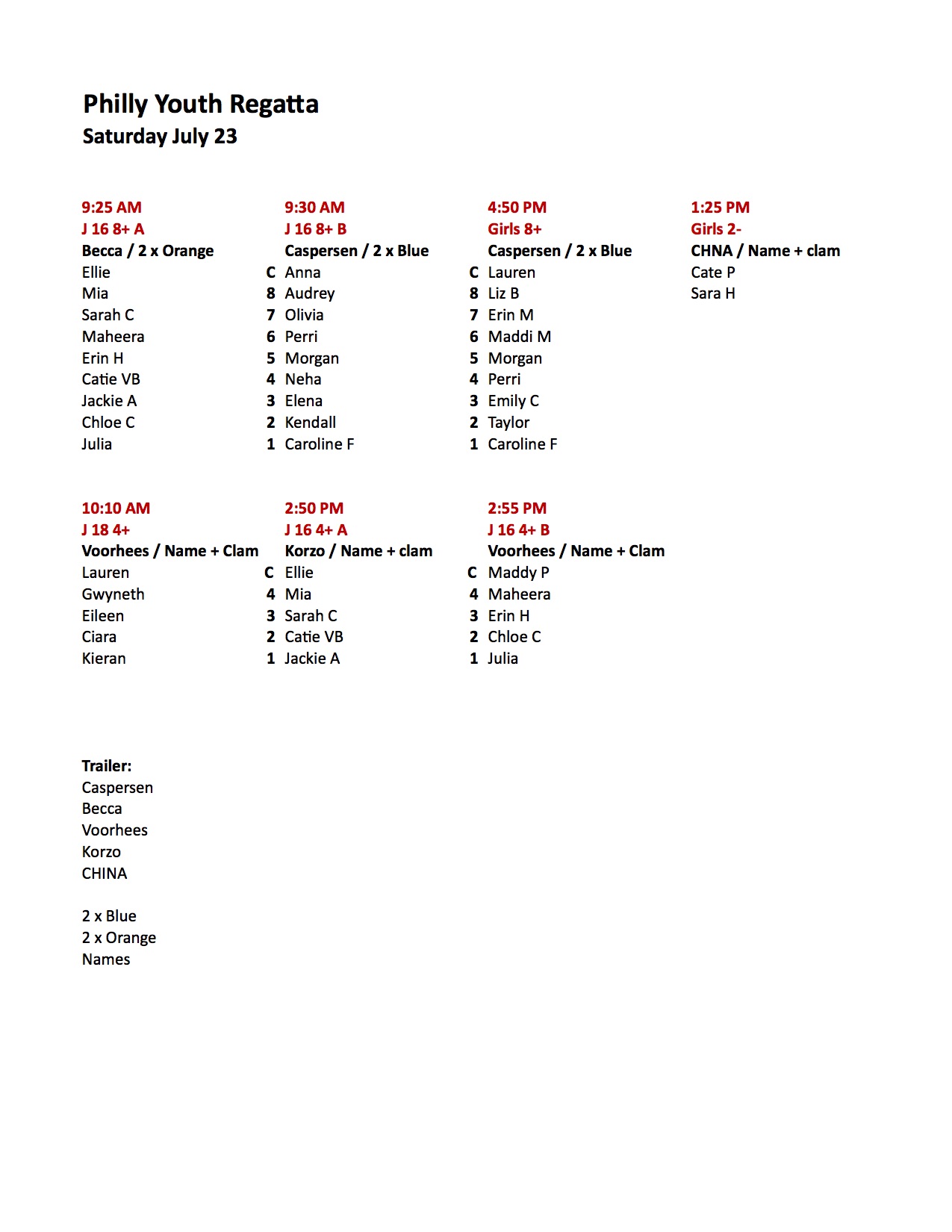 Please let me know if you have any questions!
GO MERCER!!
– Coach Maddie