Mercer Novice Parents/Athletes,
Mercer Sprints will be held this weekend. We will be racing early Saturday morning. Below is the schedule for the weekend. Please make sure to look closely at the time the athletes are expected to arrive at the boathouse based on what boat they are in.
** MERCER TEAM PICTURES WILL BE TAKEN TOMORROW AT PRACTICE – EVERYONE MUST WEAR THEIR WHITE RACING SHIRT. 
If your athlete does not have a white racing shirt I will give one them one at practice tomorrow!
A few items to be aware of for Mercer Sprints:
 – When you drop your athlete off please drop them off and leave the boathouse. Once an athlete arrives at the boathouse on race day I require their undivided focus. Parents hanging around the boathouse causes distractions for both coaches and athletes. We ask that all parents drive over to the other side of the lake and view the regatta with all other spectators (This is also the best vantage point for watching the races). After your athlete's race is over and they have been dismissed by their coach they are allowed to be picked up.
 – All athletes are asked to arrive wearing the white Mercer racing shirt and black spandex. All athletes should have a white racing shirt as they will all need one for team pictures this Wednesday. Please make sure athletes come wearing layers as it will be chilly in the morning but should warm up as the day progresses.
 – We still need stakeboat holders for Saturday afternoon and Sunday. I am asking that our novice program fill those spots as our athletes are not racing during those times. It is always a great experience for athletes new to the sport.  Please 
click here 
to sign up to volunteer.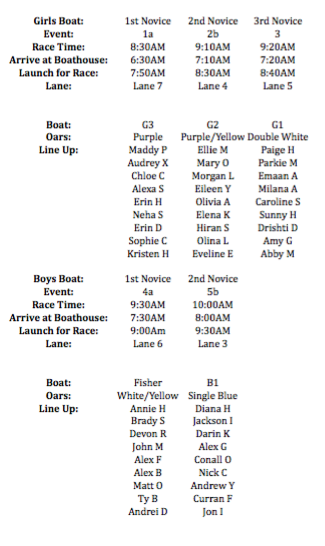 Please let me know if you have any questions.
– Coach Maddie
609-799-7100 x 103
609-306-5453
malden@rowpnra.org